Who We Are
"Until I come, devote yourself to the public reading of Scripture, to preaching and to teaching." 1 Timothy 4:13
"Living Breath Videos" was formed when videographer Ben and actor Susie found themselves stranded as unexpected housemates without work during lockdown in the UK. They decided to start creating videos that explored Bible passages in new and creative ways. They both have a real passion for the arts and for using their gifts to share the Good News. As professionals in their respective fields they wanted to create something really high quality, even though they could only film at home! With churches having to go online, they realised there was a need for professional quality videos that bring the Word of God to life, such content can easily be slotted into online church services
The verse in 1 Timothy was shared with us by Ben's pastor as we were deciding whether to provide our videos to a wider audience and start up Living Breath as a ministry. We were encouraged to "publicly" share the scriptures with churches across Europe, and even the world, in a time where public gatherings are not possible.

We know that the Bible is full of truth to encourage and equip people at this time (and anytime) and our hope is that you will enjoy and connect with the truth in our videos. Please feel free to contact us with any questions or comments we love to hear what people think. Please also subscribe to our mailing list to hear more about what we are getting up to and how you can support us in prayer.


Susie Garvey-Williams is an actor and performer. Trained in performing arts at SLP college, she has progressed on to work on various projects - acting, singing and dancing. Susie is passionate about using the arts in the Church - both to share the Gospel and to encourage and equip the body of Christ. She is the first performer for Living Breath Videos and is striving to create further content of an ever increasing quality.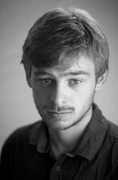 Benjamin Driver is a director, writer, and videographer. After achieving a first class honours degree in TV and Film Production, Ben went on to develop his own commercial video business. His real passion is for telling stories, and none more so than those found in the Bible. A co-founder of Living Breath, his job is to bring together the technical and the artistic to create high quality content with the Bible at it's heart.
Want to hear more about the work we do? You can sign up to our mailing list here